Lynden Air Cargo has added another global mission to its project list. In late March, a Lynden crew began flying between Bahrain and Kuwait for the U.S. military. These flights were previously handled by the U.S. Air Force, making Lynden the first commercial operator to be awarded a mission of this type in the Persian Gulf.

"I received a call from U.S. Transportation Command last year regarding operations out of Kuwait," says Samantha Davis, Director of Compliance and Government Contracts. "Originally, we were to be based there with operations beginning in January 2021, but pandemic restrictions and shutdowns in Kuwait prevented that. The start date was then pushed to February, but still the Kuwaiti borders were closed."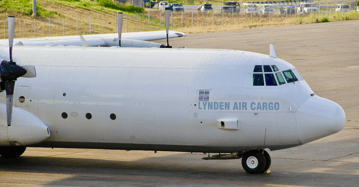 The Lynden team decided to come up with an alternative plan to base operations out of Bahrain. "We proposed a schedule with operations from March 26 to Sept. 30. In anticipation of the award, we sent our Project Manager Steven Drier over to Bahrain so we could have boots on the ground to get things set up such as ground handling, aircraft parts storage, lodging and other details," Samantha says.

When Lynden was awarded the work, an initial crew was positioned in Bahrain. It includes Captain Chris Nichols, First Officer Aaron Brammeier, Flight Engineer Bill Kenney, Loadmaster Matt Hise and Mechanic James Love. A second crew of Captain Daryl "Ducky" Smith, First Officer Guillaume Saget, Flight Engineer Jeff Brown, Mechanic Greg Pitts and Maintenance Station Manager Gregg Thompson is also in rotation. "Steven Drier started this contract and did a fantastic job. Kudos to our dispatch department for dealing with difficult airspace restrictions," Samantha says.

"Samantha expertly managed the bid process for this project, tracked down the right people and gathered every bit of information needed," says Lynden Air Cargo President Rick Zerkel. "She deserves credit for her role as compliance officer as well. We ship things all over the world, and we have never been fined or questioned on any imports or exports."
Topics from this blog: Lynden Air Cargo