To honor Lynden's many employee veterans, Lynden Logistics Services Vice President Jeanine St. John and Brian Potvin, Central Alaska Manager for Alaska Marine Lines, presented a check to Anchorage Mayor Dan Sullivan in December to help restore the Anchorage Veterans' Memorial at Delaney Park. Lynden's contribution put the fundraising over the $1 million mark. Approximately $1.45 million is needed to complete the project. The Anchorage Veterans' Memorial Committee was appointed last year by Mayor Sullivan and directed to engage the public, raise funds for restoration and complete the project with the local Parks & Recreation Department and Anchorage Park Foundation.
"Lynden's commitment to the veterans in our community is admirable and appreciated. Because of their generosity, Anchorage is one step closer to providing a much-needed upgrade to the Veterans Memorial on the Park Strip," says Mayor Sullivan. "It's gratifying when companies like Lynden step up and deliver for their community."
The 24-year-old memorial is in need of major renovation, including creating access for the disabled, vandal-proofing, concrete work and lighting. "Lynden's support of the restoration project is a way to pay tribute to all veterans and their families – those who are part of the Lynden family, those we have lost, those who served and those who now serve," Jeanine explains.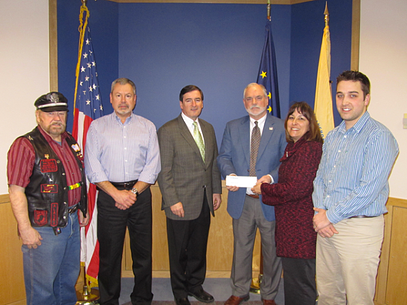 Left to Right: Fred "Bulldog" Becker of the Anchorage Veteran's Memorial Committee, Brian Potvin of Alaska Marine Lines- Veteran/US Marine Corp., Anchorage Mayor Dan Sullivan, Tim Benintendi, Anchorage Veteran's Memorial Chairman, Jeanine St. John of Lynden Logistics Services, Ross St. John of Alaska West Express-Veteran/US Marine Corp.
Topics from this blog: Lynden Employees Community