Arrowhead Transfer Port Manager Scott Curley heard about a surprise shipment of Cars-themed bedroom furniture arriving in Wrangell on the barge. He then discovered that the Make-A-Wish Foundation asked the local fire department to deliver the furniture to a local boy via fire truck.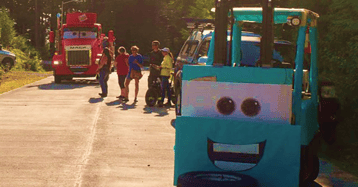 Scott decided the fire truck delivery was a "bit bland" so he came up with a new plan. "Scott suggested that we decorate one of our tractors and a forklift to match the characters in the Cars movie and join the delivery by creating a parade," explains Charity Hommel, Customer Service Manager.

Jason Gadd suffers from a form of epilepsy called Dravet Syndrome. Jason's mother Dacee wrote to the foundation with a wish for furniture matching his favorite movie Cars. Scott, his wife Keeleigh, Dorthea Rooney, Charity, local drivers and Jason's uncles pulled the pallet of furniture when it arrived via barge, assembled it and loaded it on a flatbed for delivery the next day. The team then got to work decorating the vehicles as Guido and Mack.

"We spent our fourth of July in the warehouse working on this," Scott says. "We went through a lot of construction paper and tape!" On delivery day, the firetruck arrived at Jason's home and took him for a ride while volunteers assembled the furniture in his bedroom. "When Jason returned, the parade was ready with more than 50 Wrangell residents lining the streets all the way to Jason's front door," Scott says.

According to Dacee, she saw emotions in Jason that day that she hadn't seen in years. "I am just so thankful to everyone," she says.

Wrangell resident and Arrowhead customer Jim Debord wrote in to share what he witnessed that day. "Your people definitely went above and beyond to make that boy feel special. You have some really awesome people here representing your company."
Topics from this blog: Lynden Employees LTL Community AML