Brown Line, LLC, an industry leader in temperature-controlled truck transport, was selected as the first Vendor of the Year by Chuckanut Bay Foods of Ferndale, WA. The family owned and operated boutique bakery features homegrown ingredients in its cheesecakes and other products. Brown Line provides truck transport of 180,000 pounds of Chuckanut's temperature-sensitive cheesecake each month plus butter and cream cheese to grocery stores and food service companies in the Western U.S. and Canada.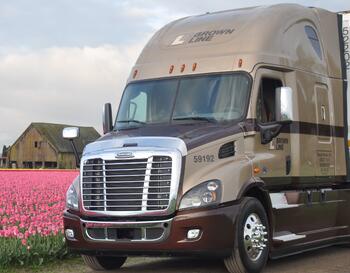 "Brown Line's exceptional level of service inspired Chuckanut Bay Foods to create a Vendor of the Year Award to recognize our partners for outstanding performance," says Jenn Elmore, Sales Administrator. "We have consistently been impressed by the can-do attitude, quick response and support we receive daily from the entire Brown Line team. We decided to use this benchmark of service to begin recognizing others with the award each year."
"The Brown Line team is honored to be selected as Chuckanut Bay Foods first Vendor of the Year. We appreciate the partnership that we have developed with Chuckanut Bay Foods since 2011 and look forward to contributing to the company's ongoing success," says Brown Line President Bill Johansen.
Brown Line is part of the Lynden family of companies.