Three Lynden companies teamed up to support the development of geothermal energy in King Salmon, Alaska. Naknek Electric Association is drilling a 9,000 to 12,000 foot exploration well near King Salmon in hopes of harnessing power to supply 28 villages in Southwest Alaska. Lynden Air Cargo, Lynden Logistics and Lynden Transport provided shipping and project logistics, often on short notice, to meet deadlines for assembling the drill rig and prepping it for drilling.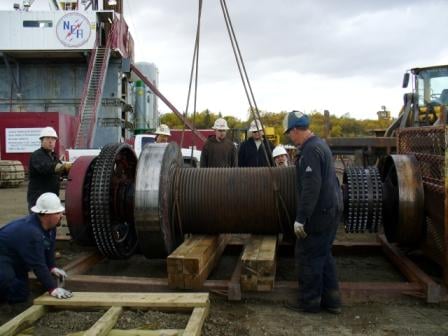 Lynden Logistics handled the oversized shipping of a 15-foot, 4,000-pound replacement shaft for the drill rig from Houston to Anchorage. Lynden Transport took over in Anchorage, picking up the shaft and delivering it to a fabrication shop. Other overnight shipments for the project included two 2,600-pound motors for the drill rig picked up in Houston on a Saturday to have it in the customer's hands on a Monday morning.
If the wells are successful, the clean energy produced would replace 3.5 million gallons of diesel fuel now used to generate electricity in Naknek. This is a groundbreaking effort for Alaska and Lynden employees were proud to help get the project off the ground.
From the Lynden Archives: This story was originally written in November 2009.