Lynden Air Cargo's L-100 Hercules aircraft is being put to use flying relief supplies to Vanuatu after Tropical Cyclone Pam devastated the South Pacific Islands March 13. Communications company Digicel Fiji chartered a Lynden Air Cargo plane from Nadi, Fiji, to the capital city of Port Vila within days of the cyclone. It was loaded with food rations and technical equipment to repair towers and networks to restore communications throughout the islands. Now working with the World Food Programme (WFP), Lynden continues to pick up more supplies from Brisbane, Australia, for air delivery to Port Vila in support of humanitarian efforts.
"We are coordinating flights as quickly as possible in cooperation with government authorities," says Rick Zerkel, Lynden Air Cargo President. "With 65,000 people left homeless from Cyclone Pam, there is an urgent need for relief supplies. We are committed to helping in any way we can for as long as our services are needed."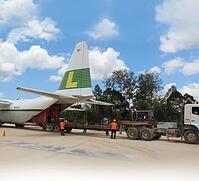 Lynden operates a fleet of six Hercules around the world specializing in remote site services and requiring minimal equipment for loading and offloading. The unique features of the aircraft make it ideal for flying aid into isolated disaster areas. Lynden Air Cargo has provided disaster relief assistance at some of the world's worst disasters, including the Haiti earthquake in 2011 and the Indonesian earthquake and Samoan tsunami in 2009. Working with the Federal Emergency Management Association (FEMA), the Red Cross and the U.S. Military, Lynden has delivered emergency vehicles, portable hospitals, food, water and relief workers to ravaged areas across the globe.
Lynden Air Cargo is one of the Lynden family of companies, whose combined capabilities include shipping to Alaska, truckload and less-than-truckload transportation, barge service to Hawaii and Alaska, charter barges, worldwide air and ocean forwarding, third-party logistics, trade show shipping, intermodal bulk chemical hauls, scheduled and chartered Hercules L-382 cargo aircraft and multi-modal logistics. Lynden companies are repeat winners in the annual Quest for Quality awards presented by Logistics Management magazine.