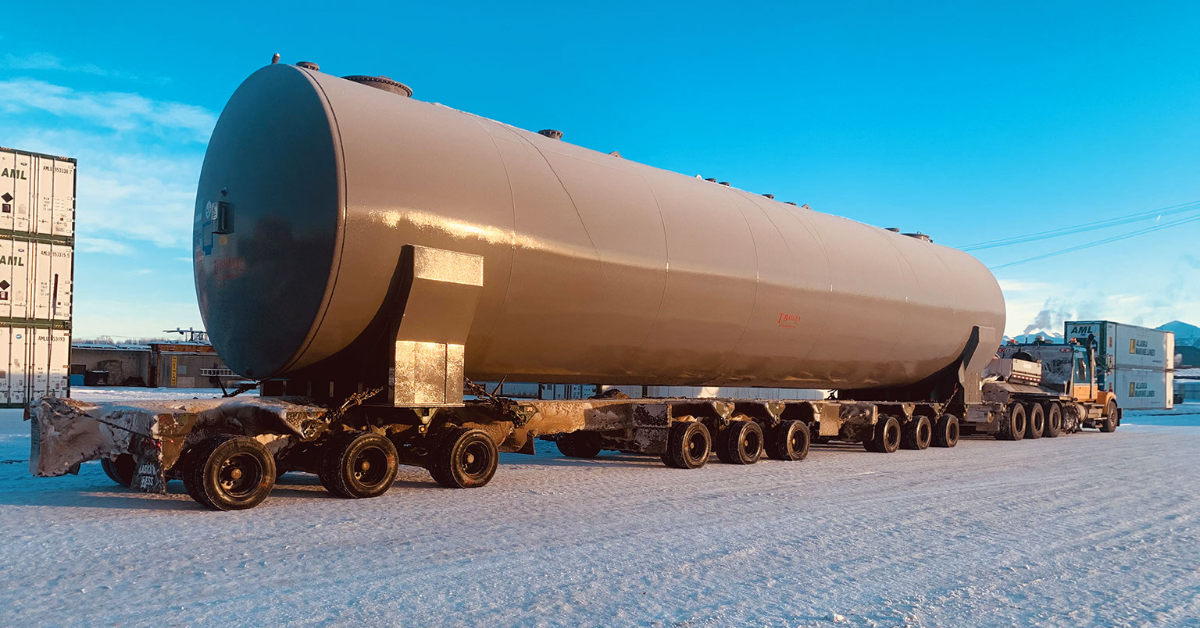 The combined talents of employees at Alaska Marine Lines, Alaska Marine Trucking and Alaska West Express were behind the successful move of four massive tanks from Seattle to Anderson, AK. According to Anchorage Service Center Manager Alex Clifford, the tanks traveled from Seattle to Whittier via barge, where Erik Scott, Whittier Service Center Manager, and the Alaska Marine Trucking team loaded them to rail cars for the trip to Anchorage.

Upon arrival, they were carefully transferred to Alaska West Express trucks (pictured above) where Drivers Brian Ambrose and Gary Ridall took the last leg – almost 300 miles north – to Clear Air Force Station Base and the radar facility in Anderson. Eric Meade and Malcolm Henry drove the assist trucks to help the loads up the hills due to winter conditions. The two teams worked together to help each other with loading and unloading operations. The four tanks required two transporters for two round trips.

"This project started with Jeff McKenney at Alaska Marine Lines," says Alaska West Express Project Manager Steve Willford. "There was a lot of effort put in by Alaska Marine Lines and Alaska Marine Trucking people getting the tanks to Anchorage so that we could transport to destination. All in all, it was a great One Lynden move."