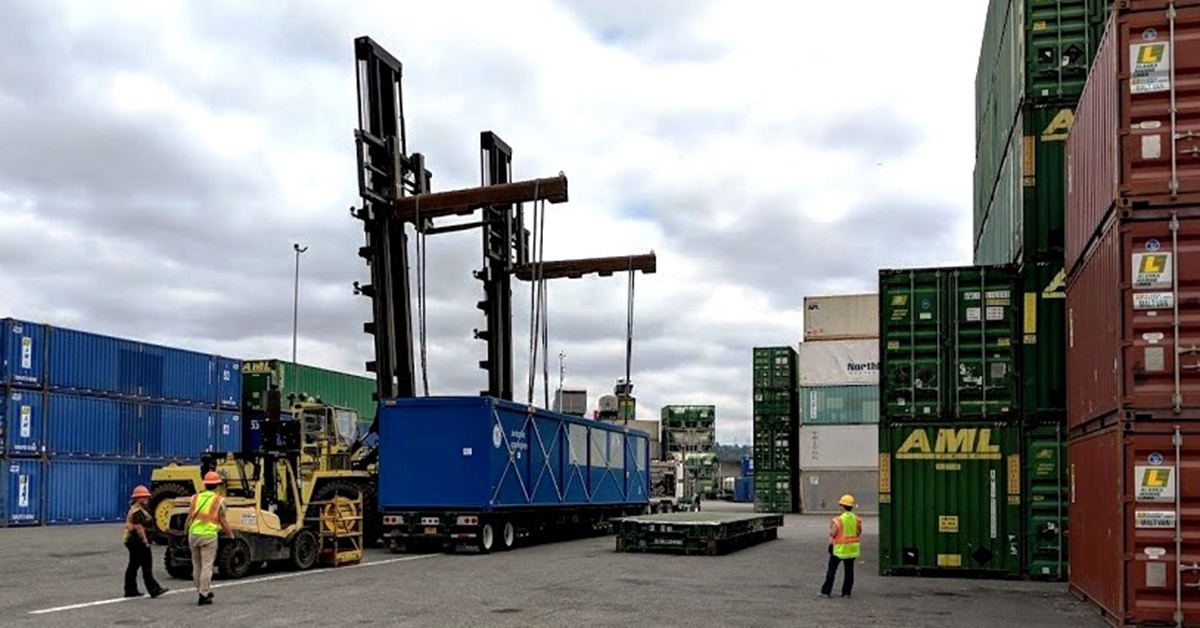 A recent project for a return customer involved four Lynden companies and three modes of transportation. Lynden Logistics was called upon to move three 56-foot power generation modules plus three 40-foot containers of supporting equipment from Europe, to Seattle and then on to a remote location in Canada. The project spanned two months and involved many twists and turns.

Planning for the move took almost a year and Lynden's carefully coordinated delivery was moved up a month when the customer's equipment was finished ahead of schedule in June instead of July. The delivery of the oversized freight required planning and coordination with the project lead for 'just-in-time' delivery of each component.

"The pieces were collected in the middle of Europe, trucked south to the port and sent via ocean to Seattle where Alaska West Express took over to get them to Canada. Lynden Logistics filed a temporary import into the U.S. for the customer, then we moved the freight inbound on Alaska Marine Lines' bond," explains Paulette Shatara, Lynden Logistics Director of Business Development, in Houston. Lynden used heavy haul trucks with specialized shock-protected trailers to move the valuable pieces from the factory, to the port for loading onto the vessel. It was a two-day journey of more than 400 miles, requiring permits and 56-foot trailers. One of the modules weighed more than 100,000 pounds. The project also involved coordinating air shipments for paint and other hazardous materials.

Once the pieces arrived in Seattle, they were carefully offloaded from the vessel onto waiting trailers and loaded onto a north bound Alaska Marine Lines barge. Alaska West Express and Canadian Lynden Transport drivers transported them to the final destination. "The successful completion of this project was the result of the cooperative efforts of Lynden Logistics, Alaska Marine Lines, Alaska West Express and Canadian Lynden Transport," says Alaska West Express Project Manager Steve Willford. Steve also recognized Drivers Gary Ridall and James Elliot for getting the modules into the delivery site safely and the close support, advice and cooperation received from the Canadian Lynden Transport team.