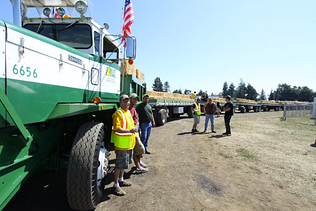 On Aug. 20, 2011, 639 people set a new Guinness World Record for the biggest hayride at the Northwest Washington Fairgrounds in Lynden, WA. A Guinness World Record adjudicator flew in from New York to validate the new record which shattered the previous record of 249 people set last year in North Carolina. According to LTI, Inc. Northwest Regional Manager Greg Tolle, Fair Manager Jim Baron called him several weeks beforehand to see if the Lynden companies could help with the effort. "They wanted to double the old record so we assessed our available equipment and put together a safety plan and a dry run for the event,"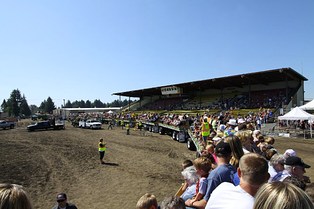 Greg says. "It was great to play a part in something like this."
Lynden provided a snow plow, 10 trailers, 10 converter dollies, steps, drinking water, and 35 safety spotter volunteers including drivers, office staff, friends and family. Brown Line President Jason Jansen drove the truck and Lynden Tank Company built a special hitch to pull 300,000 pounds of hay and riders in an 11-minute loop in front of the fair grandstands. Greg coordinated the planning, safety meetings, located the hay and volunteers and cleaned and prepared the plow and trailers for the event.
Lynden's employee volunteer team is pictured below.