A yellow Piper PA-20 hangs from the roof of the Morris Thompson Cultural and Visitors Center in Fairbanks, Alaska. The plane brings back fond memories for those who knew the pilot. From 1948 to 1974, Episcopal Bishop Bill Gordon was known as Alaska's Flying Bishop. He earned his reputation by transporting supplies and people as he flew to villages and performed religious services. He married people, christened babies and saved lives by flying the sick and injured to hospitals.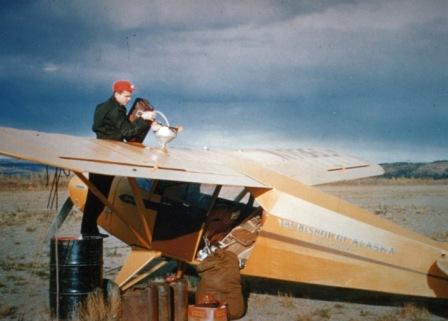 (The Flying Bishop Bill Gordon)
Last year, the plane was sitting in Juneau in need of a ride. Lynden Transport offered to move it to Fairbanks where it could be restored to resemble the one flown by the late Bishop Bill Gordon. Shirley Gordon, Bill's 86-year-old widow, was there when the plane was lifted into place at the cultural center in Fairbanks. A dedication ceremony is planned this year.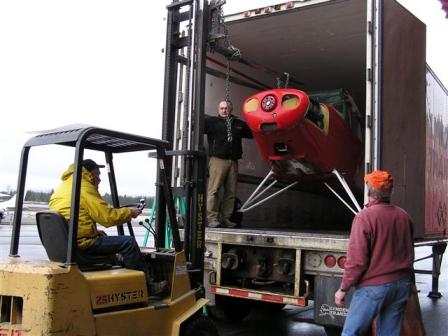 (The Flying Bishop's plane being unloaded)

The Flying Bishop is immortalized in the book "Angel on his Wing" by Tay Thomas and the movie "The Light of the North" produced by the Episcopal Church. The movie shows Bishop Bill visiting Alaska missions in 1951.

"From the Lynden Archives": This article was originally written in February 2010.