Lynden is a proud sponsor of the Jr. Idiatrod Race in Alaska, this year beginning Feb. 27 in Wasilla. The young mushers travel from the starting point to the turnaround point at the Yentna Station Roadhouse where they lay over for 10 hours before leaving for the finish line back in Wasilla.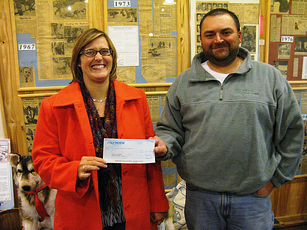 Lynden awards scholarships to the top five finishers and to the winners of the Humanitarian and Sportsmanship Awards. Here is Lynden's Sam Amato, board member and volunteer coordinator, presenting the sponsorship check to President Michelle Pearson for the 2009-2010 season.
Lynden is also the primary sponsor for Ed Iten and his team in the Alaska Iditarod and it sponsors the Yukon Quest International Sled Dog Race between Fairbanks and Whitehorse. Lynden employees are familiar faces at Alaska sled dog races, volunteering as race announcers, caring for the dog teams and lending other support.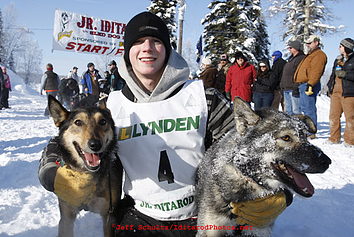 (Photo credit: Jeff Schultz / IditarodPhotos.NET)