Last year, four Lynden companies teamed up on a project to transport lead and zinc ore concentrate from the Yukon Territory to Washington and then deliver it to its final destination in Trail, B.C. Alaska Marine Lines, Canadian Lynden Transport, LTI, Inc. and Alaska Marine Trucking began transporting two-ton bags in November 2010 then, in March 2011, switched to specially designed ore containers.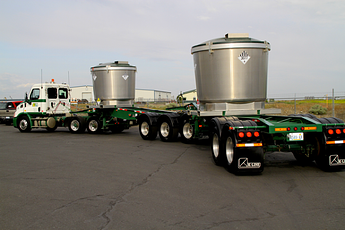 Canadian Lynden Transport's Whitehorse operation trucks the ore concentrate 400 miles from the Bellekeno Mine site in the Yukon Territory to Skagway, AK, where it is loaded onto Alaska Marine Lines barges by Alaska Marine Trucking. Once the barges reach Seattle, LTI Inc.'s Moses Lake operation picks up the huge ore pots and delivers them to a smelter in Trail, B.C.
The ore is carried in 16-ton pots moved three at a time on a B-train chassis from the Yukon to Alaska at a total weight of 170,000 pounds. In Washington and British Columbia they are carried two at a time for a total weight of 105,000 pounds (see photo).
The new contract is keeping the LTI, Inc. Moses Lake crew busy. "This has been an interesting project for us," says Regional Manager Vance Jansen. "It's a good example of the efficiencies that come from multiple Lynden companies working together." Lynden Logistics also plays a role by filing customs entries.