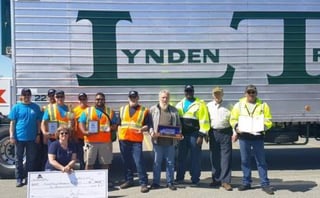 Congratulations are in order for many Lynden drivers who competed in truck driving competitions in Alaska and Washington this spring. At the Alaska Trucking Association's (ATA) annual truck rodeo in Anchorage, Alaska West Express Driver Brian Ambrose was named overall champion for the second year followed by Eddie Tuia in second place. Eddie also took first place for Alaska West Express in the 5-axle van category with Doug Longerbone of Lynden Transport taking second place.
Other first-place finishers included Jack Sorensen in the Tanker and Brian in the Sleeper Divisions. Al Guettinger and John Schank took first and second places respectively in the Old Geezer category. John was also named 2017 Alaska Driver of the Year for the second time. Other Lynden drivers competing were: Randy Estrada, Lynden Transport, third in the flatbed category; James Elliott, Alaska West Express, tenth in the 5-axle; Greg Sims, Lynden Transport, eleventh in the 5-axle; Tanner Heisler, Lynden Transport, fifth in the 4-axle; Ray Sorenson, Lynden Transport, fifth in the 3-axle and Clayton Bonty, Lynden Transport, sixth in the flatbed division. Dan Jenkins of Lynden Transport competed in the Washington competition, placing fourth in the flatbed class.

"We are always proud of the drivers who come out to represent the Lynden companies," says Richard Hennagin, Lynden Transport Safety Supervisor. "They are up against the best in the business, which makes their top place finishes even more impressive."