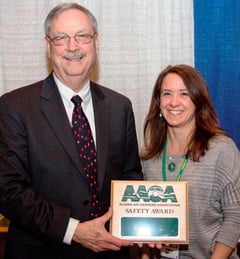 Michelle Fabry, Lynden Air Cargo's Director of Safety, accepted the Alaska Air Carriers Association (AACA) Safety Award from Director John Duncan of the Federal Aviation Administration at the February award luncheon in Anchorage. With the 2015 award, Lynden has received 14 consecutive safety awards which are presented to incident and accident-free carriers each year.
"We are very proud of our safety record," Michelle says. "It all goes back to our employees and their dedication to safety in the operation of our aircraft, maintenance, cargo handling and following established procedures."
Also in February, Lynden Air Cargo received news that it is the only carrier in the nation to receive approval of its Safety Management System Implementation Plan (SMSIP) on first submission to the Federal Aviation Administration (FAA). The Implementation Plan details how Lynden will meet the FAA's regulatory requirements. "We've been working on SMS Implementation for over three years. At the time of submittal, we showed that our plan was 80 percent complete with full implementation scheduled for the end of 2016," Michelle explains.
A team of department managers from operations, cargo services and maintenance worked together to develop the plan which included going through every FAA line item and detailing how Lynden would meet the requirement. According to Michelle, carriers who do not receive initial approval receive a visit from a team of FAA officials to help them finish the plan correctly. "This is a big deal for us. We have a great group here that got it right the first time." Full implementation of the SMSIP is not required until 2018, so Lynden is not only ahead of schedule but setting the bar for other carriers.